Full Height Shutters
Full height shutters cover the full height of the window.
Commonly specified with a mid-rail on windows over certain heights, to provide the highest levels of privacy and light control, the shutter panels are split into sections, with separate tilt rods.
Mid-rail requests are fulfilled as closely as practically possible.



Café Style Shutters
Ideal for ground level windows and town houses, café style shutters leave the top of the window un-shuttered, using only shutters for the bottom part.
This style maximises light whilst providing privacy.
Café style shutters are often used in living rooms and bathrooms.
 

Tier on Tier Shutters
With tier on tier shutters, independent panels top and bottom give greater adjustability to make the most of light, the view or provide you with privacy. This allows the top tier of panels to swing open independently from the bottom set, thus allowing the choice of either total privacy or of full light to enter through the top window, leaving the bottom section closed if required.
 

Special Shape Shutters
Special shape shutters offer a practical and stylish solution for uncustomary window shapes and are individually designed to your requirements.
 
Slat sizes
Hardwood shutters are available in the following slat sizes: 47mm, 64mm, 76mm, 89mm
47mm  
64 mm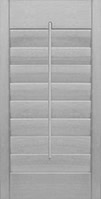 76 mm 
89 mm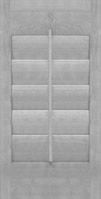 Tilt rod / silent tilt rod
Tilt rods are securely fastened to provide a robust device with which to open and close the louvres.
Tilt rods can be centred, or offset to the left or right (usually for shaped panels).
A silent tilt rod option shows no physical sign of a tilt rod mechanism, being hidden within the panel stile.
The silent tilt rod option is available for all but 47 mm slats.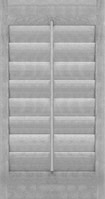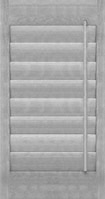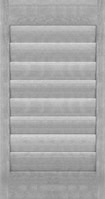 Material and colours
Your bespoke Plantation Shutters would be made to your requirements in hardwood and your chosen colour can be selected from a wide range of colours. Samples and colours are available to view at our showroom.
For a perfect fit, we recommend fitting new shutters once new windows have been installed.