Timber folding sliding doors, timber
Bi-folding doors
Our timber folding sliding doors or bi-folding doors are custom made to your individual requirements, for which we are happy to offer advice.
Traditional craftsmanship is combined with the latest technology and finishes, including double-glazing to "A" rated specifications and an advanced microporous paint system, to provide maximum insulation and durability.
Our high performance folding sliding doors are carefully installed, and the surrounding walls are decorated to provide you with a fully completed installation.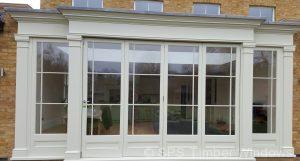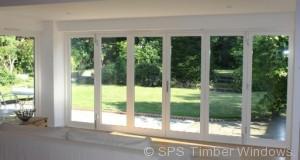 Timber
At SPS Timber Windows we not only create beautiful timber doors but ensure that their performance is optimised through the use of the highest quality timber available.
For information about Accoya® Wood, see Why timber, Why Accoya®
Weather sealing
Opening sections of the frame are fitted with Aquamac weather seals, a premium quality product which provides consistently high standards of energy efficiency.
Glass and glazing
Our doors are double-glazed to "A" rated specifications, exceeding the latest building regulation requirements.
Our sealed 22 mm double-glazed units, comprising of low "E" glass, argon filled "Swisspacer" bar and Pilkington Optiwhite™ extra clear, low iron glass provide an indicative centre pane U-value of 1.2 W/m2K.
We offer a wide variety of glass types to suit specific requirements, including:
Toughened glass
Laminated glass
Acoustic glass
Double-glazed units can incorporate SGG STADIP SILENCE® acoustic insulating 6.8mm laminated glass (35db Rw) to provide additional sound insulation and security. The incorporation of a totally transparent interlayer absorbs sound and reduces the level transmitted through the glass, helping to keep noise in or out.
Our drained and vented glazing rebates allow any moisture to escape through small concealed drainage holes, which helps to maximise the life of our double-glazed units.
Finishing
We use the most comprehensive treatment and finishes for our timber doors to ensure their longevity and minimise maintenance.
Advanced microporous treatment and paint systems combine superior standards of extensibility, adhesion and colour retention, enabling maintenance periods to be extended and redecoration to require only one coat application.
Our timber doors are primed with two spray-applied coats of white primer undercoat and mid-coat and are finished with a spray-applied top coat in a white semi-gloss finish to provide the ultimate in durability and weather resistance.
Once installed, our decorators brush apply a further finish top coat to the doors and frames, as required, at which point the surrounding walls are also made good and decorated internally to fully complete the installation.
Specified paint colours can be colour matched.
We also offer the option of dual colour.
Folding sliding door, bi-folding door fittings and security
With the most popular four door configuration, the independent door is fitted with an insurance-approved, high security five point shoot bolt locking system and the adjacent door with flush bolts to the top and bottom, concealed in the rebate.
The leading, independent door is fitted with a set of high quality lever handles.
Lever handle sets comprise of a lever handle on back plate with built-in "Euro" profile escutcheon or separate lever handles and escutcheons.
Please see our Fittings for examples
Folding sliding door, bi-folding door styles
The most popular configuration consists of four doors, with the first door opening independently and the three additional doors folding back to one side. This configuration allows for the independent door and the next door to be opened like a set of French doors. 
We can make any configuration of sliding doors to create a 3, 4, 5 or 6 door system, with an independent door as described above, or alternatively, the design can allow for all doors to fold back to one side.
Take a look at our Gallery for examples of completed folding sliding door installations. 
SPS Timber Windows has a policy of continuous improvement. We may therefore amend our specifications accordingly.