Timber casement windows
Our traditional timber casement windows are individually made with the closest attention to detail to ensure that the appearance and character of the original windows are preserved.
Our storm proof timber casement windows with "easy clean" function may be specified as required.
Traditional craftsmanship is combined with the latest technology and finishes, including BFRC "A" rated sealed double-glazing and an advanced microporous paint system, to provide maximum insulation and durability.
Our high performance casement windows are expertly installed and finished with period profiled architraves and sill boards, as required, and the surrounding walls are decorated to provide you with fully completed installations.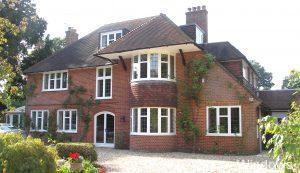 Timber
At SPS Timber Windows we not only create beautiful timber casement windows but ensure that their performance is optimised through the use of the highest quality timber available.
For information about Accoya® Wood, see Why timber, Why Accoya®
Draught proofing
High quality Aquamac draught seals are discreetly and integrally fitted to ensure optimum thermal performance.
All casements and fanlights are fully draught-stripped, including those that are non-opening.
Glass and glazing
Our double-glazed traditional casement windows are BFRC "A" rated for their thermal energy performance, exceeding the latest building regulation requirements.
Our sealed 22 mm double-glazed units, comprising of low "E" glass, argon filled "Swisspacer" bar and Pilkington Optiwhite™ extra clear, low iron glass provide an indicative centre pane U-value of 1.2 W/m2K.
We offer a wide variety of glass types to suit specific requirements, including:
Toughened glass
Laminated glass
Acoustic glass
Double-glazed units can incorporate SGG STADIP SILENCE® acoustic insulating 6.8mm laminated glass (35db Rw) to provide additional sound insulation and security. The incorporation of a totally transparent interlayer absorbs sound and reduces the level transmitted through the glass, helping to keep noise in or out.
Our drained and vented glazing rebates allow any moisture to escape through small, concealed drainage holes, which helps to maximise the life of our double-glazed units.
Finishing
We use the most comprehensive treatment and finishes for our timber casement windows to ensure their longevity and minimise maintenance.
Advanced microporous treatment and paint systems combine superior standards of extensibility, adhesion and colour retention, enabling maintenance periods to be extended and redecoration to require only one coat application.
Our timber windows are primed with two spray-applied coats of white primer undercoat and mid-coat and are finished with a spray-applied top coat in a white semi-gloss finish to provide the ultimate in durability and weather resistance.
Once installed, our decorators brush apply a further finish top coat to the new timber windows, architraves and sill boards, as required, at which point the surrounding walls are also made good and decorated internally to fully complete the installation.
Specified paint colours can be colour matched.
We also offer the option of dual colour.
Casement window fittings and security
Insurance-approved, integrally fitted high security multi-point locking systems are fitted to side hung opening casements. This locking system also incorporates a strike plate, allowing either a locked shut or a locked trickle ventilation position to be selected.
Top hung fanlights are fitted with an integral key-operated mortice deadlock or key operated lockable stay pins.
See our casement window Fittings for examples and finishes.
Casement window styles
We reproduce all styles of period casement windows and reinstate any period detail internally and externally, or we can make contemporary designs to your requirements.
Examples include:
Casement bay windows, including square, angled, radius, segmented radius, oriel or bow bay windows
Projecting casement windows
Casement windows incorporating arched tops, gothic or radius features
Round, hexagonal or special shape casement windows
Storm proof casement windows
Take a look at our Gallery for examples of completed casement window installations.
We have experience of installing wooden windows in conservation areas and in historic properties, for which our windows are designed and glazed to requirements. We can assist with planning applications if required
"The House Committee of the School of Economic Science contacted SPS Timber Windows because of their excellent reputation for manufacturing and installing high quality bespoke doors and windows, particularly into period and character properties.
St Catherines School is a stone built Grade 2 listed building in a prominent position on the Portsmouth Road in Guildford, Surrey.
The initial position of the Historic Buildings Officer at the Local Authority was that double glazed windows should not be installed, although some windows to be replaced were already double glazed and the North side of the building suffers from traffic noise.
SPS managed to produce traditional flush timber casement windows with Gothic arches, made to the highest standards and incorporating individual slim line double glazed sealed units, which were ultimately accepted by the Local Authority. The hardware and access control specification was extremely detailed, incorporating Patine finished fittings and SPS fitted the front door and frame with an electronic code-lock. SPS even redecorated around the new doors and windows leaving the job completely finished, to the delight of the Committee!
The job has been admired by everyone entering the building – gone are the draughty doors and ugly steel windows and in their place elegant and beautifully made replacements that complement this lovely historic building. Congratulations to SPS and their expert team of joiners and installers."
Yolande Hesse, Back to Front Exterior Design Ltd
SPS Timber Windows has a policy of continuous improvement. We may therefore amend our specifications accordingly.